MARGARET (HAWKINS) KEANE
(b.1927)
Margaret Keane is an American illustration and portrait artist born in Tennessee in 1927. Her work which is instantly recognizable focuses on sad doe-eyed children in oil or mixed media. Keane studied at the Walkins Art Institute in Nashville and the Traphagen School of Design, New York City. Keane notes the influence of artist Amedeo Modigliani in her work in addition to gaining inspiration from other artists such as Van Gogh, Henri Rousseau, Leonardo da Vinci, Gustav Klimt, Edgar Degas, Picasso, Sandro Botticelli and Paul Gauguin.
In the early 1960s her work became popular, while being sold under the name of her second husband, artist Walter Keane (1915-2000). Locked away in her studio to produce work, Margaret was forced to produce more work while her husband continued to take credit for her work which continued to grow in popularity after the couple started to mass produce the images for sale as posters, on postcards, plates, refrigerator magnets, etc., making the art affordable to the masses. Keane's artwork was also readily available at mainstream locations like supermarkets and gas stations. A 1965 LIFE Magazine story called the paintings "the most popular art now being produced in the free world."
Eventually Margaret and Walter would divorce in 1965, citing the issue over the artwork credit as the cause. Due to Walter's refusal to relinquish his rights to the artwork, the couple's divorce proceedings would eventually lead to federal court. During the hearing the Judge asked both Margaret and Walter to create a painting before the court to prove that Margaret was indeed the artist. Walter declined to paint before the court, citing a shoulder injury and in 1986 the court sided with Margaret, reestablishing her rights to her work.
Her work while living in her husband's shadow tended to depict sad children in a dark setting, but after divorcing, moving to Hawaii, and becoming a Jehovah's Witnesses in 1972, her paintings took on a happier, brighter style which her website now describes as having "tears of joy" or "tears of happiness".
Keane's work has become a fixture of popular culture and was the inspiration for illustrator Craig McCracken's "Powerpuff Girls".
Keane had had solo shows at the Brussels Pavilion at the Brussels World's Fair, by special invitation of the Belgian government; Tokyo American Cultural Center in Tokyo, the National Museum of Contemporary Art in Madrid and galleries in New York, Chicago, Honolulu, Houston, San Francisco and Beverly Hills, among others. She was named a Fellow of The Society of Western Artists after exhibiting in three Annual Juried Shows in the M.H. De Young Memorial Museum in San Francisco.
Currently Margaret makes her home in Napa County, California. Her work has been collected by actresses Joan Crawford and Natalie Wood as well as director Tim Burton who directed the 2014 biographical drama about Margaret and Walter titled "Big Eyes", where she is portrayed by Amy Adams. The artist's Keane Eyes Gallery is located in San Francisco.
Keane's work can be found in public collections such as The The National Museum of Contemporary Art, Madrid; The National Museum of Western Art, Tokyo; the National Museum of Modern Art, Mexico City; Le Musee Communal Des Beaux-Arts, Bruges; the Tennessee Fine Arts Museum, Nashville, Tennessee; the Brooks Memorial Museum, Memphis, Tennessee;the Hawaii State Capitol, Honolulu; the United Nations, New York City; the Triton Museum of San Jose, California; the Laguna Beach Art Museum, Laguna Beach, California; the National Museum of of Contemporary Art, Madrid and others.
MARGARET (HAWKINS) KEANE
Artworks for Sale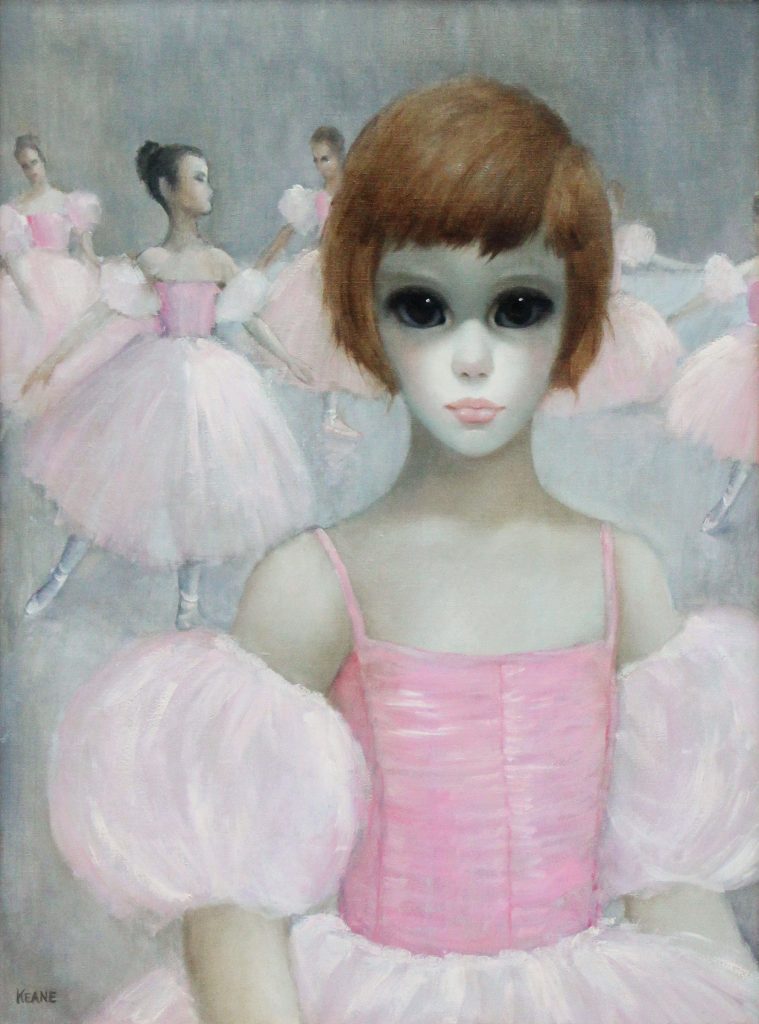 MARGARET (HAWKINS) KEANE
Young Ballerina
Oil
24 x 18 inches; Framed: 32 x 26 inches
Click here for more information